Formally known as Immortal Laces™
Intact Supply Co Laces
Intact Supply Co laces are a premium skateboarding and action sport shoelace specially constructed to endure intense physical abuse from ripping shredders.
Skaters go through more shoelaces than anyone we know. If they can take the punishment of grip tape and sliding on concrete you can imagine how well they perform in any activity you put your laces through.
Intact Laces are also the best way to customize your personal style while relieving you from inevitable shoelace breakage.
Ultra-Durable
High Tensile Strength
Abrasion Resistant
Resistant to Environmental Degradation
14-Day Trial Period With Guarantee
Shoelaces vs. Concrete
There are two major factors that contribute to broken, session ending laces while skateboarding. Knee bails while skating ramps or parks and griptape shredding laces while nailing ollies and flip tricks. This video gives a great example how Intact Laces helps in the never ending battle against the unforgiving concrete of big bowls and bails.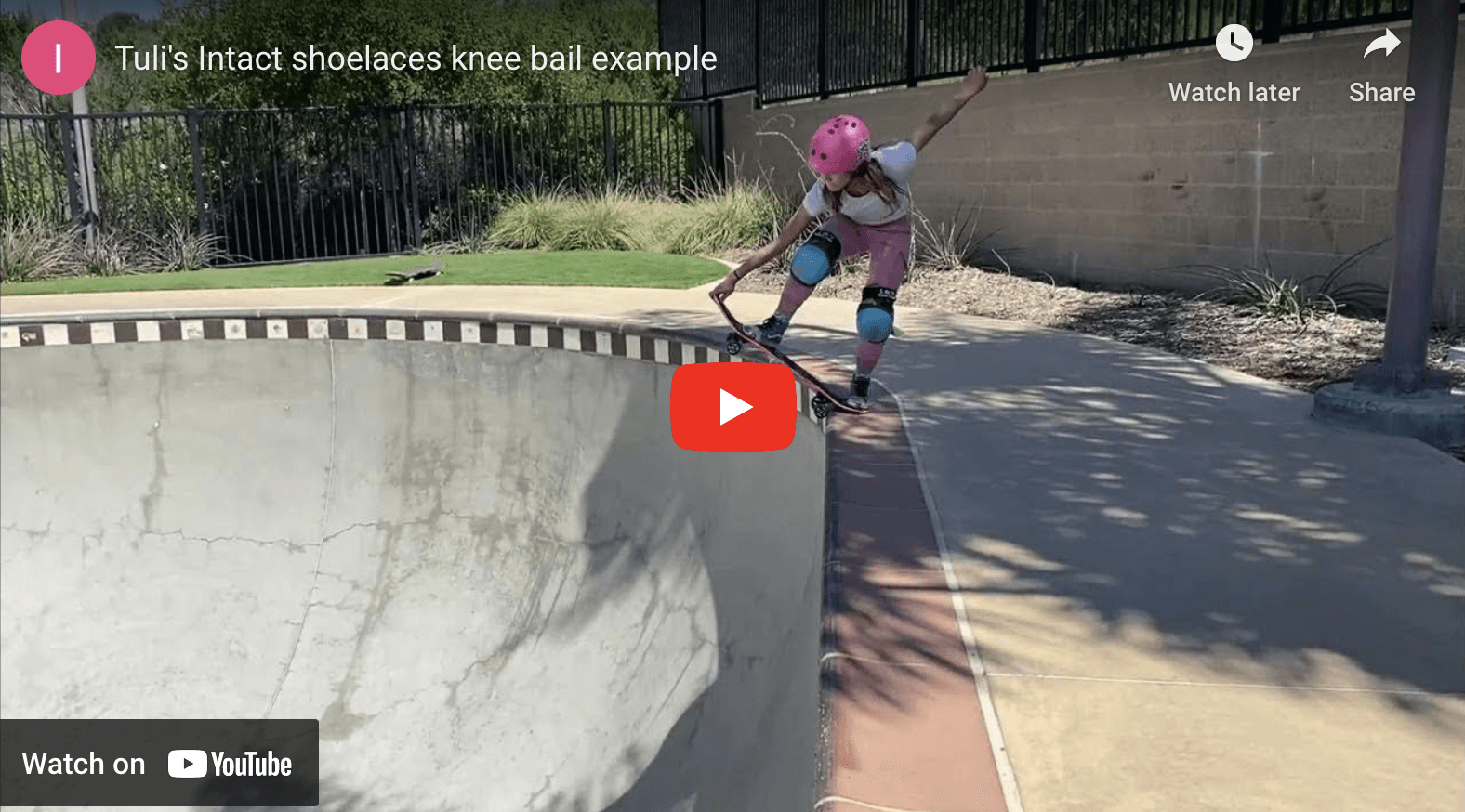 Shoelaces vs. Grip Tape
This video gives a great example how Intact Laces fights the never ending battle agains unforgiving grip tape. Whether it's popping out of vert or on the street, ollies and flip tricks can shred shoelaces to a pulp.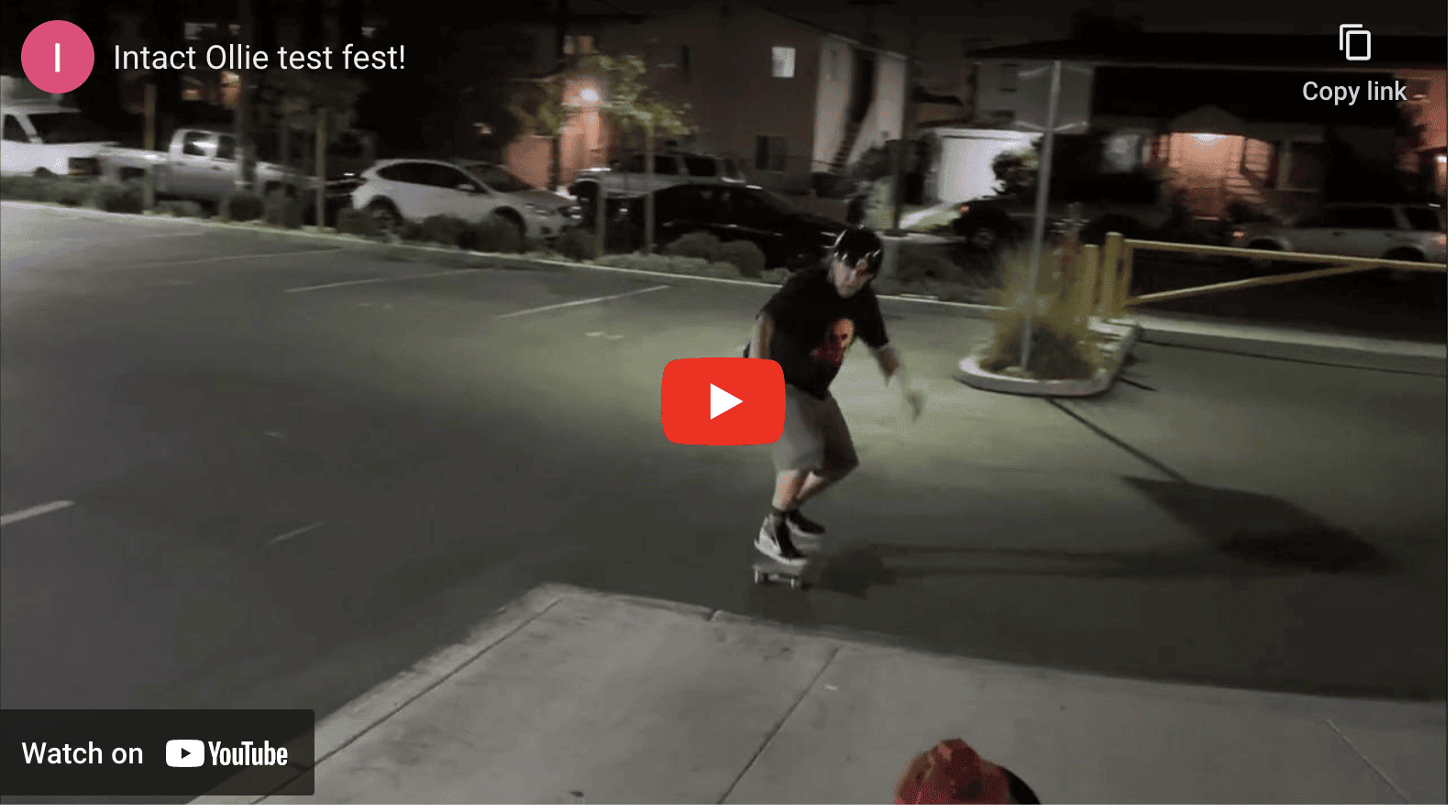 How it started
At the Coronado skate park in San Diego, on the afternoon of April 1, 2014, I (Dan Ryan, who recently started skating again after a 24 year-ish hiatus) watched Eric DuRose (who has been skating 30+ years with no hiatus) lace up his Half Cabs with those black and tan work boot laces. The following conversation ensued:
We skated for a little over an hour and by the end of the session… the boot lace had broken.
And an idea was born…
The next day I set to researching to see if anyone had tackled this problem. To my surprise I could not really find anything. Then I recalled watching T.V. a few months prior and seeing a guy break out of a set of zip tie handcuffs using his shoelaces which were made out of nylon cord. What was the answer?
Making Laces Sucks Too… But We Did It.
For five of us, the next couple of weeks was a blur of nylon cords, aglets, scissors, razors, crimping tools, lighters, candles, pliers, duct tape, internal testing and time… A LOT of time.
It was one step forward, two steps back with little victories along the way and some failures. What? The aglets are supposed stay on? Yes, that happened…
In the end, we had some really cool looking laces that were super-duper durable. We were totally in love with them BUT… were we just drinking our own Kool Aid?
So we had some people test them out… They loved them!
As I mentioned earlier we are located in San Diego, specifically Clairemont, home of the Krause Family Skate Park.
Over several days and weeks we doled out prototype laces to visiting local amateurs and pros alike.
The response was nearly universal.
INTACT LACES… RULED!
Are you ready to get Intact?
For years shoelaces have been overlooked in the action sports industry, specifically skateboarding. Intact Laces offer the perfect mix of enhanced durability, stylish design, high tensile strength and resistance to environmental degradation that elevates our laces to where they can outlast a typical shoe.
A pair of regular laces, on average, costs $5.44 with high end kevlar laces going for as much as $19.
A typical skateboarder, on average, breaks 5 laces per month.
That is a cost of $27.20 per month!
That means most skateboarders are spending between $25 and $30 per month on inferior laces where one set of Intact Laces could do the job.
Based on that information laces of this quality and durability should cost between $19 and $24… but they do not.
In fact, a set of Intact Laces is just 11.97.
Why the low price?
We want to put Intact Laces into the hands (or better yet shoes) of anyone who has struggled with broken laces in the past. And if you don't see the value at $11.97, then you probably should leave these laces to the real skaters.
Try Them Today Risk Free
Break The Lace Guarantee
Buy a set of Intact Laces today, and try them out for yourself for 14 days.

If you wear your Intact Laces for 14 days and if you break an Intact Lace while skateboarding during that time then we will ship a new set of laces to you for FREE.

You've got nothing to lose!
Keep coming back!
Again and again and….